CUUG is pleased to acknowledge our Silver sponsor:
Join our events mailing list to receive information on CUUG events such as our general meetings, special guests, etc.
Don't forget to check our other mailing lists too.
February General Meeting
Raspberry Pi 4 First Impressions
Speaker: Greg King, Retired IT infrastructure consultant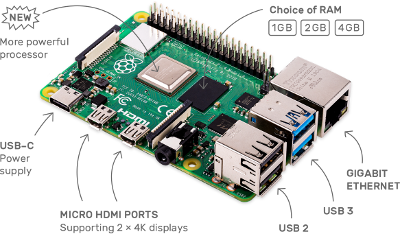 In June 2019 the Raspberry Pi 4 was released with a significant increase in performance over previous models. It can now be considered a desktop replacement for most people. Greg King has been playing with one since shortly after Christmas 2019 and finds it to be a very capable little device.
In this presentation, Greg will provide an overview of the Raspberry Pi 4 hardware and operating systems. He will also give a demo of various aspects of the Pi, including OS install, initial configuration, desktop functionality, and multimedia functionality.
Greg King is a CUUG board member and retired IT professional who still enjoys computing as a hobby.
Place 800
800 - 6 Ave. S.W.
Plus-15 Conference Room
There is $2 parking after 16:00 one block north-east of the meeting location, in the underground parkade at McDougall Centre.
5:30 PM, Tuesday, February 25, 2020
Snacks at 17:30. Meeting begins at 18:00.
Attendance is free for CUUG members, or $10 (cash only) at the door for non-CUUG members.