CUUG Upcoming Meetings
Last update: $Date: 2017-12-03 02:05:41-07 $
---
January General Meeting
Designing and Building Printed Circuit Boards on a Shoestring Budget
Speaker: Chuck Rohs, Endpoint Security Developer, Cisco Systems, Inc.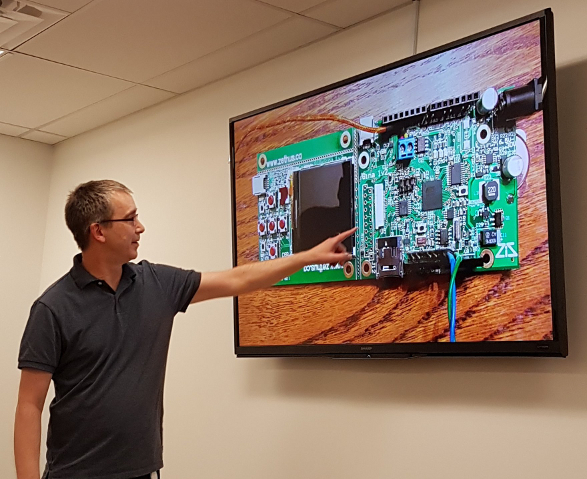 Many people like to tinker with development boards — e.g., Arduino, Raspberry Pi, BeagleBoard, ODROID, ESP8266, etc. — or build electronic projects from discrete components. Frequently these projects end up being a rat's nest of wires on a breadboard. What many people don't realize is that designing and building a printed circuit board (PCB) is easily within the reach of the hobbyist, with a few simple tools. Developing a PCB can sometimes be easier than prototyping, allows for a more robust mechanically stable project, and the possibility of easily making multiple boards for family or friends.
This discussion will illustrate the steps involved in printed circuit board design and manufacturing at the hobbyist level by reverse engineering a Raspberry Pi Amplifier "HAT". This discussion will cover:
Board inspection for reverse engineering
Component determination
Examination of reference designs of key parts
Schematic capture (in Protel)
Bill of materials
Footprint generation
Board fabrication (DirtyPCBs)
Board paste-up and reflow
Tools required
Chuck Rohs is an endpoint security developer at Cisco Systems, Inc. Chuck has a background in embedded software development and security, and was a founder of Au-Zone Technologies Inc.
Central Library
616 Macleod Trail S.E.
Basement meeting room

5:30 PM, Tuesday, January 23, 2017
Note that this is the fourth Tuesday of January (not the last Tuesday).
Snacks at 17:30. Meeting begins at 18:00.
Attendance is free for CUUG members, or $10 (cash only) at the door for non-CUUG members.
---
See the main CUUG web page for general information about CUUG.