December Holiday Social
CUUG December Holiday Season Social Evening
It's December, and in keeping with our tradition of recent years, CUUG members and their invited guests will get together for a social evening at the Regency Palace restaurant on Tuesday, December 11, 2018. We'll have a private room and have food from the buffet. Attendees pay for their own drinks.
If you are a CUUG member and would like to join us, please e-mail office at cuug.ab.ca so that we can get a good count of how many people to expect. If you would like to bring a guest, please let us know your guest's name as well.
We look forward to seeing you there!
Regency Palace Restaurant
335 - 328 Centre Street South

5:45 PM, Tuesday, December 11, 2018
This event is for CUUG members and invited guests.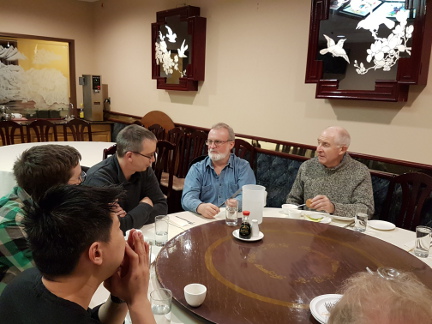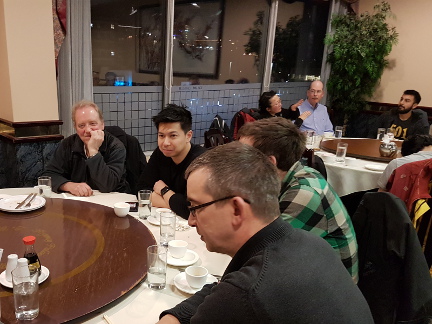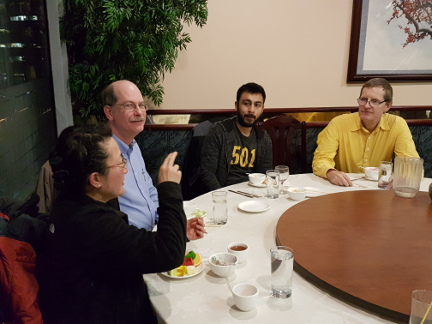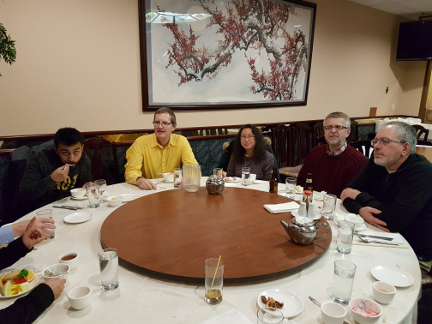 November General Meeting
Hardware as Software: How To Write A Cycle-Accurate Emulator
Speaker: Dr. Thierry Lavoie, Ph.D., Manager - Static Analysis Technologies (SAT), Synopsys
Software is commonly advertised as portable across hardware. However, the promises of portability fall short in practice and most software are to various degrees dependent on their hardware. This was especially true at the beginning of the personal computing era. As older hardware fades out and disappears from the market, programs designed for these systems are lost. Or are they?
This talk will explore cycle-accurate hardware emulation and how to emulate systems and programs based on the 6502 processor, famously used in the Apple II, Atari 2600, and the Nintendo Entertainment Systems. The main topics that will be discussed are the basic architecture of an emulator and how it interprets programs, memory device emulation, challenges of achieving cycle accurate emulation, system emulation with multiple processing units (including video and audio), and debugging.
Dr. Thierry Lavoie is a former senior engineer turned manager in the Software Integrity Group at Synopsys. He holds a Bachelor of computer engineering, and a Master's degree and a Ph.D. in static program analysis from the University of Montreal, where he also lectured on compilers and data structures for several years. He is currently the principal voter on the ISO C++ Standard Committee for Synopsys. He has implemented parsers for PHP, Java, and C/C++, has a knack for exotic data structures, and loves designing software for complex problems.
Place 800
800 - 6 Ave. S.W.
Plus-15 Conference Room
There is $2 parking after 16:00 one block north-east of the meeting location, in the underground parkade at McDougall Centre.
5:30 PM, Tuesday, November 27, 2018
Snacks at 17:30. Meeting begins at 18:00.
Attendance is free for CUUG members, or $10 (cash only) at the door for non-CUUG members.
October General Meeting
The Top 20 Cyberattacks on Industrial Control Systems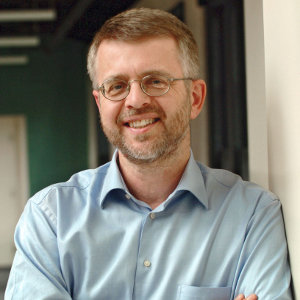 This presentation reviews the top twenty cyberattack classes for industrial control systems, and evaluates three different control system security postures for a single site against these attacks. Business decision makers are often reluctant to allocate funds for security program improvements on the basis of qualitative risk assessments or hypothesized probabilities for attacks that have not yet occurred at a site. Andrew shows how to use the spectrum of attacks as a tool for explaining the consequences of existing vs. proposed security postures. This spectrum of attacks suggests a specific answer to the question, "What is the simplest attack with serious consequences that our current security posture does not defeat reliably?"
For anyone interested in more details, this presentation is based on the 2017 paper by the same name.
Andrew Ginter is the VP Industrial Security at Waterfall Security Solutions, an Assistant Professor at Michigan Technological University, and an author and speaker on SCADA Security topics. He has led teams developing SCADA, IT/OT middleware, and SCADA security products, and was awarded patents for middleware and SCADA security technologies. He holds Applied Mathematics and Computer Science degrees from the University of Calgary, and is located in Calgary, Alberta.
Central Library
616 Macleod Trail S.E.
Basement meeting room

5:30 PM, Tuesday, October 23, 2018
Snacks at 17:30. Meeting begins at 18:00.
Attendance is free for CUUG members, or $10 (cash only) at the door for non-CUUG members.
September General Meeting
The Importance of PKI (Public Key Infrastructure) Management
Speaker: Fady Bashay, Senior Security Consultant, Difenda Inc.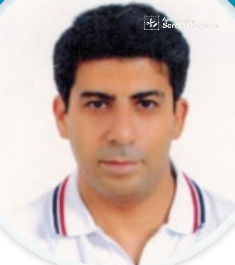 With more and more companies embracing new technologies such as Cloud computing, IOT and mobiles Apps, PKI becomes more crucial to protect any organization. PKI is now emerging as a core for securing such new Technologies.
We will describe what is PKI and what is the technology behind digital certificates. We will explore how PKI is deployed in an enterprise environment. We will explain the different technical components that need to be deployed.
Usage of PKI has exploded in recent years. In the process, many organizations have lost control over their PKI assets. We will talk about the general best practices and what are the risks associated with using certificates.
And finally, we will explain some of the top concerns that CISO's have today with respect to the use of certificates. How are certificates being used by hackers and malicious users to breach organizations.
Fady Bashay is a Security Consultant who specializes in PKI, Certificate lifecycle management, cryptography and key management. He has a Master of Engineering Information System Security from Concordia University in Montreal and is currently working at Difenda Inc. as Senior Security Consultant.
Central Library
616 Macleod Trail S.E.
Basement meeting room

5:30 PM, Tuesday, September 25, 2018
Snacks at 17:30. Meeting begins at 18:00.
Attendance is free for CUUG members, or $10 (cash only) at the door for non-CUUG members.