CUUG Meetings: 2011-2012
Last update: $Date: 2023-06-30 21:27:05-06 $
Past Meetings: 1999-2000 2000-2001 2001-2002 2002-2003 2003-2004 2004-2005 2005-2006 2006-2007 2007-2008 2008-2009 2009-2010 2010-2011 2011-2012 2012-2013 2013-2014 2014-2015 2015-2016 2016-2017 2017-2018 2018-2019 2019-2020 2020-2021 2021-2022 2022-2023 2023-2024
June General Meeting
PKI Encryption: More Vulnerable Than Most Imagine
Speaker: Andrew Ginter, Director of Industrial Security, Waterfall Security Solutions
Encryption based on the Public Key Infrastructure (PKI) is the workhorse of e-commerce. It ensures transaction confidentiality and authenticity, even in the face of sophisticated man-in-the-middle (MIM) attacks. Its Achilles heel though, is "key management" -- the system of certificate authorities that try to ensure that public keys are authentic. This presentation introduces PKI concepts, vulnerabilities and a variety of attacks possible when key management is compromised, including several recent compromises of and vulnerabilities in the certificate authority system. The presentation winds up with a discussion of what this all means for industrial control system security, where there have been long-standing calls for greater use of strong encryption to defend critical infrastructures from cyber-sabotage.
Andrew is the Director of Industrial Security at Waterfall Security Solutions. He is a long-time Calgarian who's had UNIX/Linux on the brain for way too long. Early on he settled into building industrial control systems. After that he helped build a middleware product that connected up a lot of control system networks to business networks, which seemed like a good idea at the time. Even later, he wound up building security products, trying to plug the kinds of security holes he created by connecting up those networks. Nowadays he talks a lot and writes a bit -- about cool security stuff if possible.
W.R. Castell Central Library
616 Macleod Trail S.E.
Basement meeting room

5:30 PM, Tuesday, June 26, 2012
Snacks at 17:30. Meeting begins at 18:00.
Free admission for the general public.
Door prize.
Annual General Meeting and Elections
The Calgary UNIX Users' Group is holding its Annual General Meeting and election of the 2012/2013 Board of Directors. Nominees so far include the following:

cuugboard.
W.R. Castell Central Library
616 Macleod Trail S.E.
Basement meeting room

5:30 PM, Tuesday, June 26, 2012
Snacks at 17:30. Meeting begins at 18:00.
Membership Renewals Due
It is annual renewal time for CUUG memberships. Membership fees remain at $50.00 (no GST), and cheques can be made payable to Calgary UNIX Users' Group. Our mailing address is as follows:

Calgary Unix Users' Group
Box 878, Station M
Calgary, Alberta, Canada, T2P 2J6

Or, better yet, come to the meeting on Tuesday, June 26, and renew there.
Invoices have sent out by e-mail. If you have not received yours, please contact office at CUUG.
May General Meeting
A Ten-Year Retrospective: the Good, the Bad and the Legacy Trap
Speaker: Theo de Raadt, Founder, OpenBSD
OpenBSD founder Theo de Raadt discusses where the industry as a whole stands today, ten years after the OpenBSD innovations.
There are some roses and some thorns. Some are surprising. Theo will attempt to explain why some industry products out there continue to be very dangerous ... and which vendors have tried to improve things. Much of current architecture explains why many vendors are "trapped by legacy."
Bring your questions and opinions.
Theo de Raadt is widely recognized as a world class security expert. In October 1995, Theo founded the OpenBSD project. OpenBSD is the most secure of the publicly available operating systems.
In 1999, Theo created OpenSSH with other members of OpenBSD. It is now incorporated into all Unix systems plus hundreds of other network enabled products. It has become the most "vendor re-used" piece of open source software, with more than 95% of the SSH market.
Theo was awarded the Free Software Foundation's 2004 Award for the Advancement of Free Software, for recognition as founder and project leader of the OpenBSD and OpenSSH projects. His work has also led to significant contributions to other BSD distributions and GNU/Linux. Of particular note is Theo's work on OpenSSH, his leadership of OpenBSD, his commitment to Free Software and his advancement of network security.
Theo is also well known for his advocacy of free software drivers. He has long been critical of developers of Linux and other free platforms for their tolerance of non-free drivers and acceptance of non-disclosure agreements.
Following his presentation, Theo provided these related links:
W.R. Castell Central Library
616 Macleod Trail S.E.
Basement meeting room

5:30 PM, Tuesday, May 22, 2012
Snacks at 17:30. Presentation begins at 18:00.
Free admission for the general public.
Door prize.
April General Meeting
Speaker: Joe Topjian, Cybera
The popularity of cloud computing has increased tremendously over the past few years. Cloud computing has become a part of our everyday lives -- from the use of Dropbox, to Amazon EC2 becoming the standard platform for start-ups. Many individuals and businesses looking to build their own clouds have turned to OpenStack to provide the services and infrastructure required, and it is now considered a leading open source project. This presentation will discuss what exactly "cloud computing" is, as well as give a high-level overview of OpenStack and the benefits it can offer individual users and small businesses.
Joe Topjian is a systems administrator at Cybera, a not-for-profit that seeks to spur and support innovation in Alberta through the use of cyberinfrastrucutre. Cybera is utilizing OpenStack for several Alberta- and Canada-wide projects. Joe has worked with Unix and Linux for 12 years, and has witnessed how these tools and services have developed and evolved over time to form the basis of much of today's cloud computing.
Knox United Church
506 - 4 St. S.W.
Theatre (basement)

5:30 PM, Tuesday, April 24, 2012
Snacks at 17:30. Presentation begins at 18:00.
Free admission for the general public.
Door prize.
February General Meeting
Speaker: Ian Graham, Developer, Risk Analytics, Markit
The use of domain specific languages (DSLs) has become a new trend, in part because of the increasing ease with which supporting tools can be implemented using frameworks such as the open-source Eclipse platform to enhance the value of a DSL to language users. Eclipse is well known as a Java IDE but it goes much further than that, providing an integrated platform for software development tools across a wide range of languages and platforms. It has even evolved into a general purpose application framework that has been heavily used by NASA, particularly for planning and controlling the Mars and upcoming lunar rover missions. We will take our own terran tour through Eclipse from the perspective of its text editing framework, which provides core tools for the development of sophisticated language-aware editors for general purpose languages and text-based DSLs. The framework includes support for syntax highlighting, error annotation, context-sensitive code-completion, hover help, code folding and more. With the benefit of an Eclipse-based text editor, your DSL users will easily learn to speak your language.
Ian Graham is a software developer for the Risk Analytics team at Markit. Early in his career he developed Unix device drivers for use in air traffic control systems and tanks, but was soon spoilt by the discovery of virtual machines with automatic garbage collection and rich class libraries and has remained an operating system agnostic ever since. Having come to rely heavily on GUIs and auto-completing editors, he can no longer remember the difference between "ls -r" and "ls -R".
Bow Valley College
332 - 6 Ave S.E.
Room N-438

5:30 PM, Tuesday, February 28, 2012
Snacks at 17:30. Presentation begins at 18:00.
Free admission for the general public.
Door prize.
January General Meeting
Un-redacting documents using Web Inference
Document redaction is an important method of protecting private and sensitive information in a document. The information in a redacted document however, can be combined with the public knowledge that is encapsulated in the Web, to infer the redacted part. We give an overview of web inference and show that naive document redaction can be easily attacked. We also show that this gives a systematic method for redacting documents with a desired level of security against web inference attack.
Rei Safavi-Naini is the iCORE Chair in information security, and co-Director of Institute for Security, Privacy and Information Assurance at the University of Calgary. Before joining University of Calgary in 2007, she was Director of Institute for Telecommunication and Information technology, and Professor of Computer Science at the University of Wollongong, Australia. She is on the steering committee of ACM Computer and Communication Security conference, and on the editorial boards of IEEE Transactions on Information Theory and ACM Transactions on Information and System Security (TISSEC).
Bow Valley College
332 - 6 Ave S.E.
Room N-438

5:30 PM, Tuesday, January 24, 2012
Snacks at 17:30. Presentation begins at 18:00.
Free admission for the general public.
Door prize.
December General Meeting
CUUG Holiday Season Social Evening
It's December, and the festive season is upon us. Whether you celebrate Christmas, Hanukkah, Kwanzaa, the Winter Solstice, or all of the above, it's the time of year to get together and enjoy friends and family.
We invite you to join your CUUG friends on Tuesday, December 13, for an informal gathering and celebration of the season. Instead of any formal presentation, we'll trade stories and anecdotes of our past UNIX experiences and of what's interesting us now. Feel free to share whatever you've encountered, or just learn what others have been up to.
Instead of meeting at our usual location, we'll get together at the Regency Palace restaurant, a couple of blocks north and west, where we'll have our own private room. Also, we'll partake of the dinner buffet instead of doing the usual pizza. (Restaurants tend to look at you funny if you bring in your own pizza.)
If you'd like to join us, please send a quick note to office at cuug.ab.ca so that we can get an approximate count of how many people to expect. We hope to see you on Tuesday!
Regency Palace Restaurant
335 - 328 Centre Street South

5:45 PM, Tuesday, December 13, 2011
Everyone is welcome to come!
November General Meeting
An Oracle Open World Update
Speaker: Rolawe Bakare, Systems Sales Consultant, Oracle
Oracle Open World took place in October, and included announcements primarily centered around engineered systems. With today's reality being that a heavier burden is placed on lean IT groups to deliver increasing services, Oracle provides solutions that help remove the operational burden on these teams of integrating systems across the stack to provide said services. We take on the responsibility of pre-testing, pre-patching, pre-configuring solutions to match datacenter expectations.
This presentation gives a high-level introduction to the following: Solaris 11, Engineered Systems (Exadata, Exalogic, Exalytics, Big Data, Oracle Database Machine, SPARC Supercluster), SPARC T4 chip, Oracle Virtual Machine (OVM for x86 and SPARC, the old Ldoms) and Ops Center.
Rolawe Bakare is an Oracle Systems Sales Consultant whose current role is to help customers architect Systems/Virtualization/Storage solutions. He was educated in Computer Science and Statistics at the University of Saskatchewan, and has six years of IT experience.
Bow Valley College
332 - 6 Ave S.E.
Room N-438

5:30 PM, Tuesday, November 22, 2011
Snacks at 17:30. Presentation begins at 18:00.
Free admission for the general public.
Door prize.
October General Meeting
R.I.P. Dennis Ritchie, Father of UNIX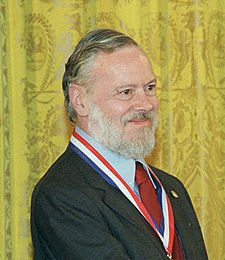 On October 12, 2011, Dennis Ritchie died at the age of 70. Ritchie was the inventor of the C programming language and one of the key people involved in the creation of UNIX. His death was first reported by fellow UNIX pioneer Rob Pike.
For his contributions to computing, especially including UNIX, Ritchie received the Turing Award, the U.S. National Medal of Technology, and other awards. His work formed the basis for many modern operating systems and programming languages, with UNIX being the key platform on which the Internet was built.

Join us for a presentation on the work and legacy of Dennis Ritchie.
Bow Valley College
332 - 6 Ave S.E.
Room N-438

5:30 PM, Tuesday, October 25, 2011
Snacks at 17:30. Presentation begins at 18:00.
Free admission for the general public.
Door prize.
September General Meeting
Attack Trees - Thinking Like an Attacker
Historically, most security decisions are made based on the knowledge and instincts of security professionals. Given the current level of threats faced by information and control systems, this may no longer be adequate. A failure to recognize an important threat may leave an organization exposed to unacceptable levels of risk. Conversely, unnecessary security controls are expensive, inconvenient and may detract from more important initiatives. Legal and regulatory requirements also demand that documentation be provided to demonstrate due diligence and compliance - an aspect of security that is often omitted.
Attack trees are a graphical, mathematical structure that can be used to rigorously analyze the risks from a multitude of hostile and random threats. They were originally developed for use in the intelligence community but have spread to other areas such as aerospace and defense. More recently they have found application in securing control systems, particularly within nuclear power generating facilities. Terry's presentation will delve into the theory behind attack trees and show examples of how they can be used to analyze security risks in information systems.
Terry Ingoldsby was a founding board member and past president of CUUG. He is the chief technical architect of the SecurITree attack tree analysis software tool. Over the past ten years he has dealt with numerous high security clients in aerospace, defence and critical infrastructure environments. He continues to have a strong interest in Unix, Linux and Open Systems and is proud to report that his attack tree demonstrations will use SecurITree running on Ubuntu.
Bow Valley College
332 - 6 Ave S.E.
Room N-253

5:30 PM, Tuesday, September 27, 2011
Snacks at 17:30. Presentation begins at 18:00.
Free admission for the general public.
Door prizes.
2011 Board of Directors
At the June 2011 Annual General Meeting, the following people were elected to the Board of Directors for 2011/2012:
Alan Dewar (President)
Mark Hewitt (Secretary-Treasurer)
Mike Babulic
Roy Brander
John Clarke
Read all about them.